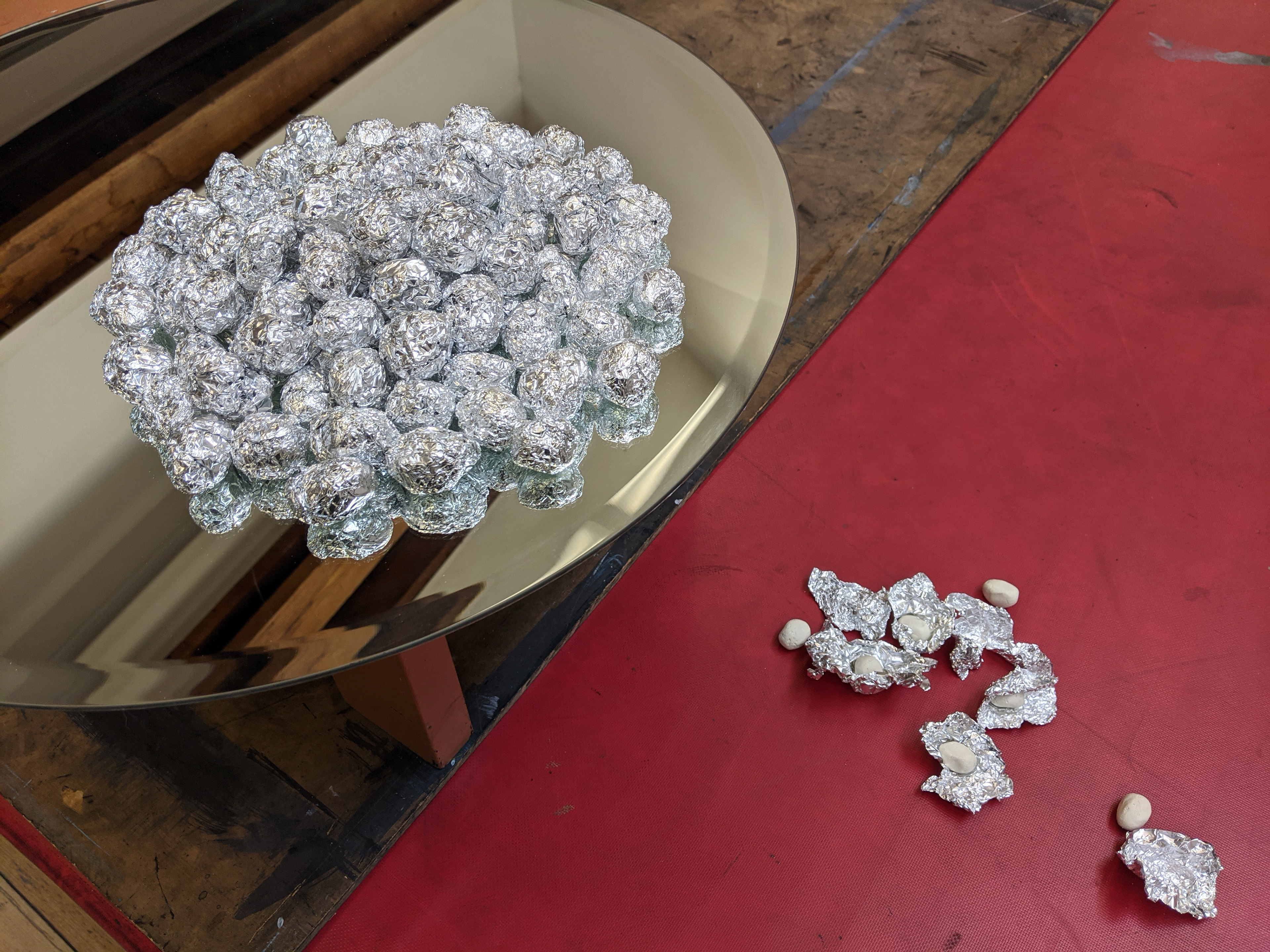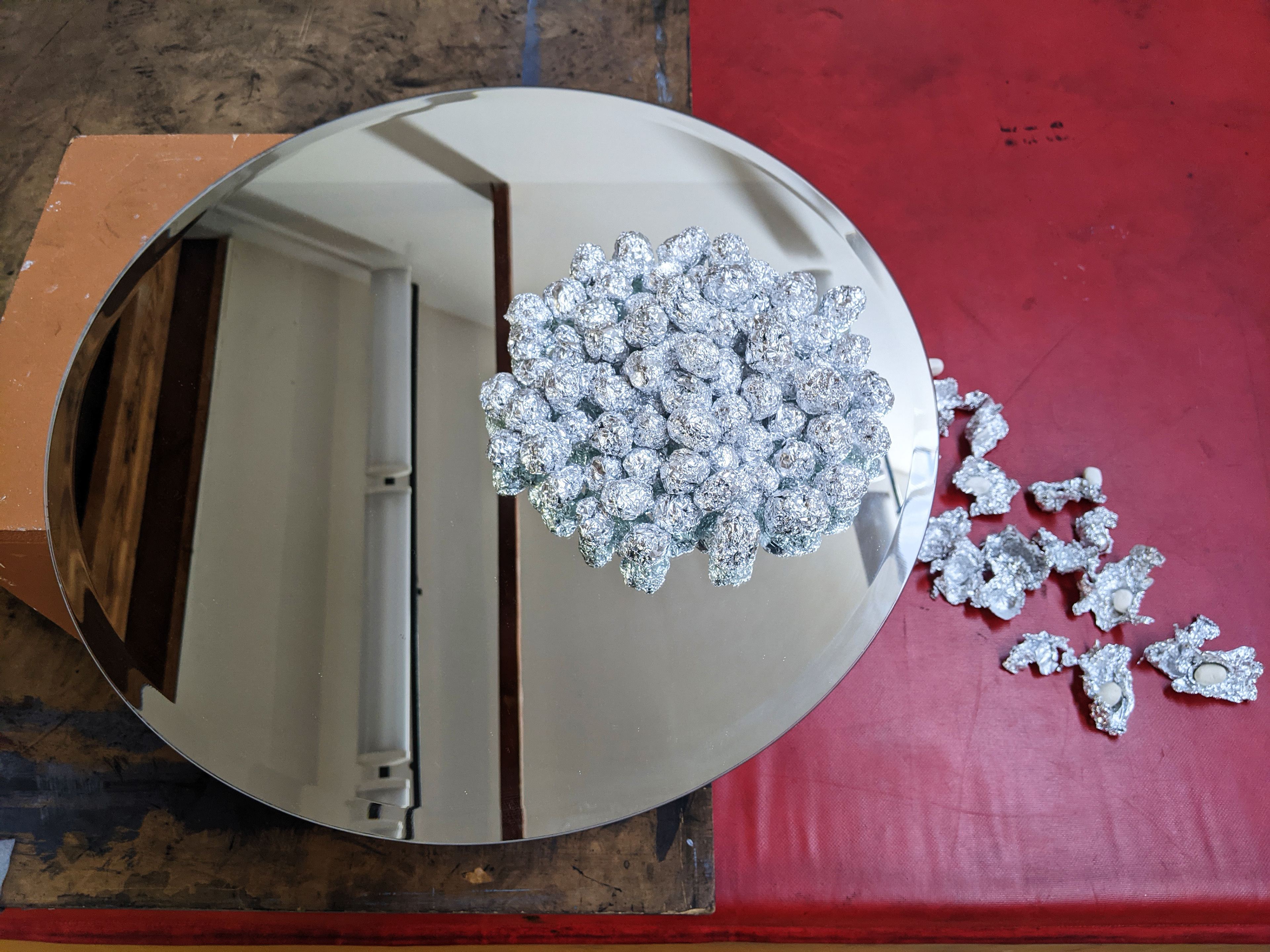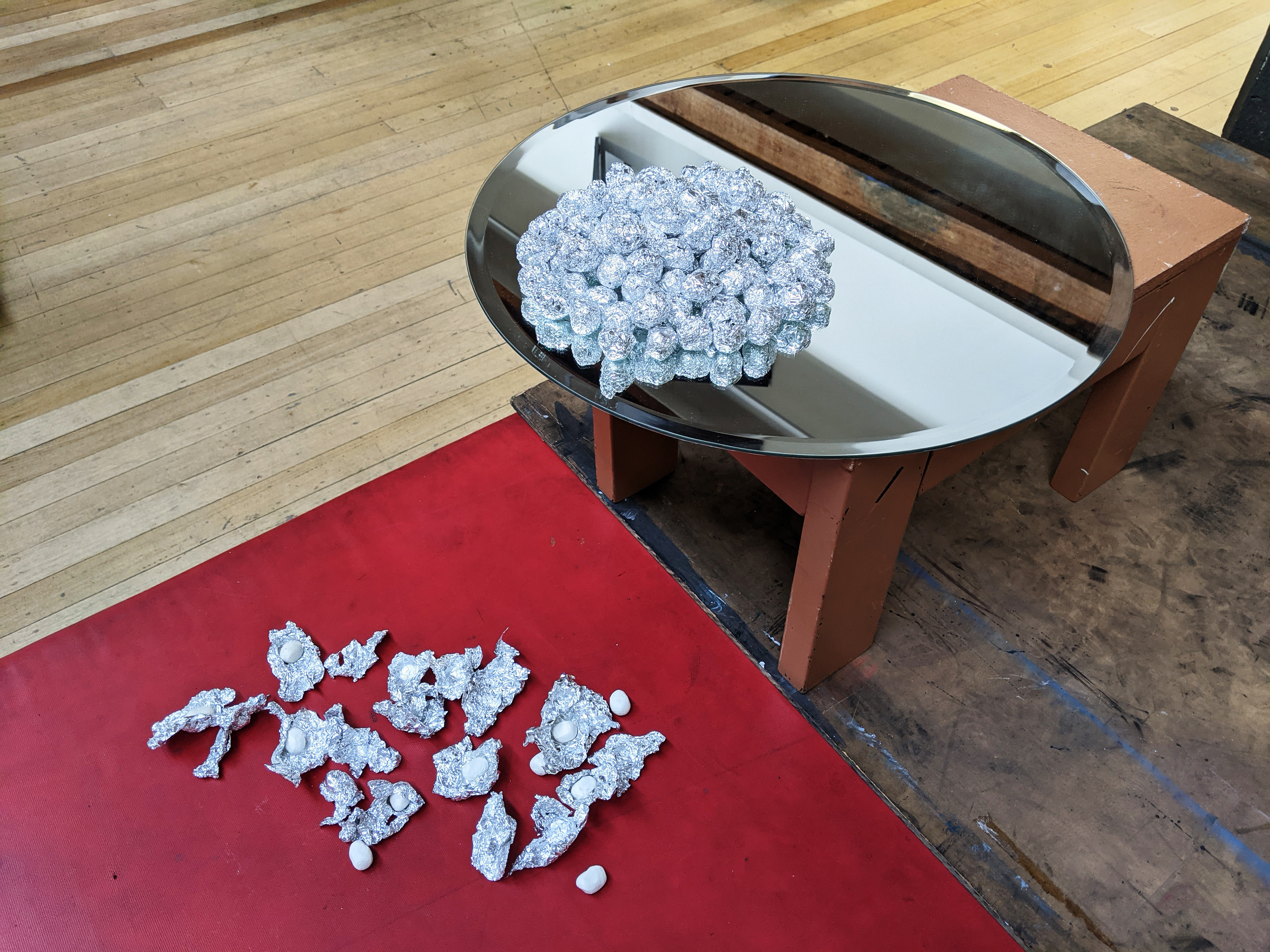 'Hungry'
, a mixed media sculpture, investigates the mining industry's environmental and social impact on the Tasmanian landscape and the problematic connection between humans and nature. It involves physical engagement with the onlookers, inviting them to be part of the creative process to shape the project.
The artwork comprises numerous small tin ore like items placed upon a round mirror in the shape of pans commonly used in placer mining. Conversely, the objects inside the shiny aluminium foil are under wraps before being opened. After finding edible white chocolate or inedible air-dried clay stones inside, everyone is welcome to devour the chocolate and discard the foil and clay, which gradually gets piled up and creates a mess on the floor. The mirror brings the onlookers and the objects into the same space, enabling them to observe and reflect on their actions and consequences.
Through researching mining regions in Tasmania, I realise that human beings regard natural resources as utilitarian objects and assign their monetary value to them in the act of mining. I further interpret mining as a process of identifying the consumable and distinguishing it from the inconsumable, resonating with how the onlookers separate the chocolate from the clay when interacting with
'Hungry'
. Eventually, nothing stays on the site other than disordered stones and foil, suggesting an exploited environment abandoned by the mining industry. The audience joins me for a reflective journey on the tension and conflict during the extraction of valuable materials from the land.
As a chef, I am always interested in using edible materials in artistic creation. Hence, it is an obvious choice for me to manipulate chocolate as a vehicle to explore the negotiation between us and the natural world. Do we only see the environment as food to trade and consume? Do we measure the value of natural resources solely from the perspective of economics? In addition, I apply visual ingredients from the research to the artwork itself, such as the surface of tin ores, the shapes of stones and pans, reassembling the connection to the mining sites. The white chocolate and clay stones have similar colours and textures, requiring the audience to look closely to recognise the difference, which challenges our existing perception and concept of materiality.

CREDITS
Adam Hsieh (concept development/art direction/production)
MATERIALS
Dairy free white chocolate, clay, aluminium foil, mirror
DIMENSIONS
60cm (L) x 60cm (W) x 5cm (H)
EXHIBITIONS

Silence Speaks Louder Than Words
(2022). TBA, nipaluna/Hobart, Australia.